The Lucidity Room
Essay, (Québec, Editions Trois-Pistoles, "Ecrire" Series, 2003, 200p. Illustrated)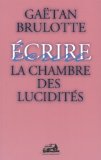 In this essay the author is a strong supporter of literature, which he feels is threatened to disappear. In a recent televised interview the American writer Philip Roth said that writers and literature will probably not exist anymore in some twenty-five years. He felt very sorry about it because, if it happens, we might lose a major civilizing and thinking tool, we will be intellectually, artistically and morally poorer. Brulotte perceives Literature, along with the Arts, as one of the finest instruments of civilization that we have. It provides us with lucidity, consciousness. To let it go would be risking returning to barbaric times. Literature allows the creation of durable bridges between human beings and cultures. It is an international communicator. Through a book, individuals from different horizons can get interested more deeply to each other, instead of misunderstanding each other, despising each other, repudiating or killing each other. Literature helps mutual understanding and brings into new light the human condition from its past and in its current reality. It gives the means to reconcile cultures and unify our pull to clarify the world we are living in and confer more meaning to what does not seem to have any. It shows the spiritual and cultural diversity of human kind, while lifting the frontiers within and being the cement that holds this diversity together. Literature musters, glues us to each other because it provides us with clarification and compassion. It also makes us more intelligent in our relationship with the world and with each other because it educates our emotions.
Reviews' excerpts
"At the book fair of fall 2003 in Montreal, having a few spare minutes, comfortably sat at a stand, as a matter of reflex I have opened a book displayed on a signing table… Happy reflex, as I have discovered a book that ravished me. It was about creative writing, literature and reading… Since then, I have a dream that all the managers, teachers and professionals working with children read this book. (…) You certainly have guessed that the book which ravished me is by Mr. Brulotte. Read this book, believe in the fundamental importance of reading and stimulate in the youth the taste for reading… Thanks to those persons who were present at the stand where this book was … I wish a nice career to this title. Thanks to Mr. Brulotte for having talked so well about writing, literature and reading." Rachel Boisvert, Vivrélire, Feb. 2004.
http://www3.sympatico.ca/rboisvert/Libres/libres25.htm
"Powerful and extremely brilliant. La chambre des lucidités makes us meet a great thinker, someone who unveils an admirable knowledge."
Carlos Bergeron, Lettres québécoises, 115 (Fall 2004), p. 44.
"With this intimate book, Gaëtan Brulotte allows the readers to look at, and enjoy, behind the curtain in all their bareness the secret aspects of literature and writing craft. Comfortably installed in his Chambre des lucidités Gaëtan Brulotte let himself talk as in a conversation. His reflection becomes a lively and powerful guide. Like an inquiring and desiring lover, he explores, he appreciates, he understands. He will say that literature "is a handshake above the nothingness, a light, although fragile, that twinkles over the pauper's grave of History". " Louise Turgeon, Planète Québec, le 19 février 2004.
http://planete.qc.ca/culture/livres/quebecois/quebecois-1922004-65027.html
"I have just finished La Chambre des lucidités by Gaëtan Brulotte. It is a rich small treatise about writing." Alvina Levesque - Lettre vagabonde – Feb. 11, 2004, Chronique du monde
http://www.capacadie.com/chroniquedumonde/detail.cfm?id=83219
Should you want to read in French the Romanian review of this book, please clik here.