Oeuvres de chair. Figures du discours érotique
(Essai. Québec : Presses de l'Université Laval; Paris : L'Harmattan, 1998, 509p)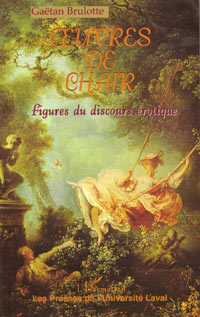 Depuis l'origine de la civilisation, l'être humain a fait de sa sexualité un problème majeur qui demande réflexion. C'est ce problème que cherche à circonscrire le présent ouvrage, qui est la première étude de ce genre sur un corpus qu'on lit en cachette depuis des siècles et que la critique a toujours déconsidéré. Tout en parcourant deux millénaires de pratiques sexuelles à travers la littérature, ce livre parvient à présenter un tableau des constituan­tes du discours érotique.
Finaliste au Prix Victor-Barbeau 1999
Académie des Lettres du Québec
Ce que la critique en pense
"Travail magistral sur le délicat sujet de l'érotisme (…) l'oeuvre de Brulotte est aujourd'hui un géant de papier, produit d'un homme mûr, avisé et cultivé. Il fera date, n'en doutons pas; il est, je crois, déjà absolument incontournable pour quiconque s'intéresse à ces oeuvres de chair…" Muriel Walker, LittéRéalité [Toronto] XI.2 Automne 1999, p. 91-92.
"Other critics in recent decades have undertaken universal histories of erotic writing, in French and in English, attempting, as Brulotte does, to undo the work of censorship and to draw attention to a range of more-or-less disreputable texts. (…) The fact is, however, that Brulotte's text is far more learned, more complex, and more engaging than any of its predecessors. None of them has done its work as well as his." Peter Cryle, AUMLA (Journal of the Australian Universities Modern Language and Literature Association) 93(May 2000) : 125-127.
"un ouvrage qui sort vraiment de l'ordinaire (…) un essai magistral, et qui fera date (…) somme capitale exceptionnellement dense, fouillée, bien rédigée, on ne peut plus originalement articulée et décemment libertine (…) La masse de connaissances que le texte implique, l'élégance de l'exposition, la nouveauté des approches et l'appropriation lexicologique du discours s'y conjuguent de façon impressionnante.(…) comment ne pas se faire un bréviaire de ce voluptuaire ! (…) L'affaire est donc entendue, -sorti des enfers, Brulotte s'impose comme un diable d'écrivain." Pierre Lexert, Les Cahiers du ru (Aoste, Italie) 33, été 1999, p. 121-122.
" impressive study of the figures of erotic discourse" a "welcome publication on one of the most neglected of literary genres." "Encyclopedic in dimensions"(…) "Brulotte offers his readers intelligent and detailed analysis of not merely literary critical, but also philosophical and socio-historical interest." "their manner of representation (the erotic works') is analyzed here in depth for the first time. Indeed, it is the originality of this book to offer a study of the rich social and psychological detail of a literature which the sweeping generalities of conventional criticism have largely reduced to stereotype." "Oeuvres de chair, then, serves crucially to increase critical awareness of the value of a genre that is still tacitly if not openly despised by the academy. In both scope and approach, this new ars erotica constitutes a unique resource for interested scholars. Dedicated to the memory of Roland Barthes, it is also, fittingly, a real pleasure to read." John Phillips, Modern Language Review 96.1(2001): 212-213. Londres, Grande Bretagne.
"(...) The project is fascinating but it is the organization of the work itself that is perhaps its most interesting feature. (...) The result of this detailed categorization is the creation of a vast catalogue of erotic discourse (...) The depth and breadth of Brulotte's reading is apparent in the immense quantity of texts under examination. The manner in which he draws bits and pieces from this entire range of works to create thematic discussions of excess, letters, orgies, reflections, or rest (to name but a few more of his topics), is intriguing, and will stimulate many readers' interest in pursuing further some of the ideas he presents." Scott Manning, French Review (USA) 75.1 (October 2001): 153-154.
"fait la démonstration jamais pesante ni pédante, grâce à un soubassement théorique parfaitement maîtrisé, que les textes qu'il désigne par le terme "érographique" (…) ont beaucoup donné à la littérature. (…) Ce livre est intelligemment peaufiné, il a non seulement du corps mais une belle âme." Nicole Bajulaz-Fessler, Encres vagabondes, Paris, No 16, mars 1999, p.57.
"Le projet ne manque ni d'ambition ni d'originalité. (…) rien, dans cette mise en scène du corps érotique qui a lieu par le texte, ne semble avoir échappé à Brulotte. (…) L'érographie invente une société des loisirs et des plaisirs sans fin: telle est l'ultime découverte de cet essai aussi original que ludique qui nous livre les clefs d'une littérature méconnue. " Francine Bordeleau, Spirale (Montréal, Canada) nov.-déc. 1999, p. 7-8.