One Shop Stopping
A Play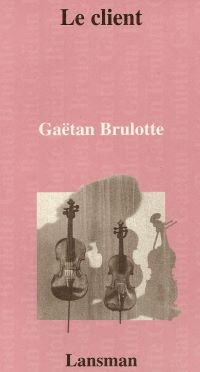 This play is about a young violin amateur that one day, out of curiosity, gets in the shop of an old violin-maker and will never leave. A strange situation that may look like a trap, but the shopper stays because he is invited to do so and has personal reasons to justify it. More importantly, he stays also because he is fascinated by what he learns from the old man and his female weird handicapped companion. What is at stake here?
This Engish translation by Richard Lebeau, is available. An alternate translation untitled The Guardian of the Violins, by Claude Fouillade, is also available.
Radio play, 1983
First Prize at the Canadian Broadcasting Annual Contest for Radio Plays, 1983.
Represented Canada at the Paul-Gilson Prize in Europe, 1984.
Stage adaptation, 1996-2001
Selection for Journées d'auteurs, 1996, Théâtre des Célestins, Lyon, France (among 85 international submissions).
Selection by Entr'Actes, Paris, 1997.
Grant from the French Ministry of Culture (Paris), to support the staging of the play, 1998.
Reviews' excerpts
"In this play the most astonishing is that there is no drama, the hosts won't kill their guest to steal his money, the guest is not there to liberate the young girl from a bad guy. Gaëtan Brulotte seems to bet on building a play without polemical conflict. On the contrary, the character of the customer is soothed by the dances Mélanie executes and by the sweet words of his host who talks to him about art and passion. Little by little he lets himself be charmed by the soft and peaceful universe; and the reader lets cast a spell on himself by these dialogues where the good feelings become true literature." Sylvie Bérard, Lettres québécoises, 107 (Fall 2002), p.42.
"A play that hits you in the pit of the stomach and does not let you go (…) When we search for living authors whose writing and plot are a wonder, we can find… Gaëtan Brulotte is one of them (…) produces a ripe fruit, a treasure of a play from which the actors extract the delicious juice. (…) A play with an atmosphere that seeps into your skin and which is absolutely to be seen." Jean-Michel Gautier, La Marseillaise du Vaucluse, Avignon, July 17, 2001, p. 5

"Chaurette, Tremblay, Garneau, Fréchette. The dramatic literature from Quebec has been, for some years, very present on our stages. We must now count on Gaëtan Brulotte. (…) A strange and captivating play with a climate close to the universe of Pinter or Beckett. (…) One does not leave untouched from this show, which is silk thread woven, and one is glad to discover in Gaëtan Brulotte a playwright with an unusual universe and a precise style. Its rich implicitness opens profound layers of meaning." Jean-Pierre Siméon, L'Humanité, July 20, 2001, p.19
"This beautiful play is astonishing for several reasons. First because this violin-maker who has finally achieved perfection and is confronted with the emptiness of a near death is fascinating as a snake charmer. Second because it calls in an actor, a musician and a dancer, which is uncommon. Finally because it talks about solitude with melancholy but without sadness and even with sweet savour." Alain Pécoult, Agora Pièces, 2001.
"The text, stage direction and execution are literally captivating. The spectator enters a store at the same time as the customer does and neither will get out, fascinated as he is by this complete show which mixes poetry, drama, suspense (oh! yes!), music and even dance. (…) Drama, said Jouvet, is above all a beautiful language. Here we are well served. The text is magnificent, very rich and very open. One may see in it the work of all types of seduction, beneficial or evil. One may find a questioning of heritage transmission and lineage. Each sentence sends us back to our lives…" Jean Regad, Sud Théâtre, July 20, 2001
"Le Client is by far a major play on the contemporary drama scene. (…) It is so rare to see such alchemy of passion, emotion, madness and ambiguity (…) of an exceptional quality." Valérie Lods, L'Olivié quotidien, Avignon, July 18, 2001