The World of Jean Paul Lemieux
L'Univers de Jean Paul Lemieux. A critical essay. Foreword by Anne Hébert. Montreal: Fides, 1996, 282p. Illus. 2nd rev. ed.: Quebec City: Presses de l'Université Laval, 2015, 208p. + XIVp. + Ill. ISBN 978-2-7637-2607-6; ISBN PDF 9782763726083; ISBN e-PUB 9782763726090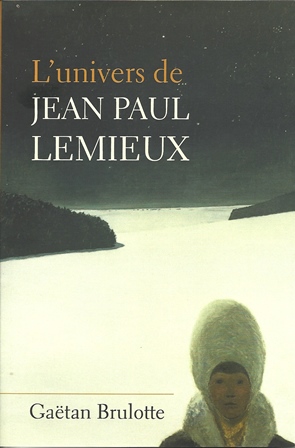 Jean Paul Lemieux is a celebrated 20th century Canadian painter (1904-1990). This book offers the first semiological approach to this major artist. It demonstrates how the art of Lemieux is an exceptional aesthetic achievement that can benefit to everyone and that he deserves to be better well known outside of his country of origin. By seeing how the artist represents important traits of French Canadian culture in his works, this contribution turns into a cultural study in which Sociology, Anthropology, Phenomenology, Structuralism, Semiology and Art theory intermingle. In an effort to find different ways of doing art criticism, Brulotte has also applied some operational concepts of literary criticism to his subject, thus contributing to a renewed understanding not only of a contemporary painter widely commented upon in Canada, but also of painting itself in general.
Reviews' excerpts
-"(…) A book that is full of original and daring views. It will surprise many with its linguistic innovations. It is, indeed, the re-invented language of art criticism. The book will disappoint no one; it is filling in a major lack. With its critical innovations, it won't surprise the admirers of a writer who took up so many challenges that came from all the genres he has treated. (…) As substantial as it is innovative." Clément Marchand, Royal Society of Canada, Nov. 1996.
-By putting together characters and settings, situations, motives, shapes, movements, by studying the framing of characters, by reflecting on space and time, Gaetan Brulotte comes to reconstruct from the works of Lemieux the constitutive scenes of a great subjective narrative, scenes of an intimate, personal and familial lost tale; in doing so, he succeeds in convincing us of the profound insight that these paintings carry…" Robert Saletti,
Le Devoir,
Sept. 7, 1996, D-8.
-"
The World of Jean-Paul Lemieux
, a literary essay in the best sense of the term, uses words to look at the work of the painter and its thematic and formal dimensions  (…). comprehensive and (…) convincing." Laurent Mailhot,
L'action nationale
, 2009.
-"The author devoted to this book, eight years of his life and this is not a small achievement. The lay person sees in it the work of a fine connoisseur." Anne-Marie Voisard, Quebec City,
Le Soleil,
Sept. 1st, 1996.
-"Is it because I am a literary person that this work has seduced me to such a point? It is so fluid, so interesting compared to all those by theoreticians and art critics who are too often lost in an incomprehensible jargon! The World of Jean Paul Lemieux opens doors on the works that we did not think of. It is rather an event in the field." Frédéric Martin,
Lettres québécoises
85, Spring 1997, 49.
-"Never has Lemieux looked so…interesting." S. Aquin,
Le Journal de Montreal,
Sept. 1996.
-"…Non-conventional analysis, from which the official art critics should be inspired in order to insure the progress of their own methodology. (…) He is renewing indeed the genre and very fortunately so." Raymond Bernatchez,
La Presse,
Oct. 20, 1996, B-6.
-"This is a serious study, a captivating, sensitive and accessible one. To improve your knowledge and penetrate from a new angle in the world of painting." Serge Bureau, Le Quai des livres, Radio-Canada, Sept. 27, 1996.
-"Written in a clear and accessible language, this very interesting book is essential for the painting lovers." S. Desjardins,
Le Fleuve
, Sept. 14, 1996.
-"This precious document is exactly introducing us to the painter, thanks to analysis worthy of experts in the field." François G. Cellier,
Le Magazine 7 Jours
, 0ct. 1996, 103.
-"I was fascinated by it…" Victor-Lévy Beaulieu,
Sous la couverture,
Canadian Broadcasting Television, Oct. 20, 1996. Re-broadcast on satelite, TV5 International, Oct. 26, 1996.
-"The Brulotte's adventure deserves to be shared by any readers who like Jean Paul Lemieux. (…) The work has the merit of bringing art criticism on new paths." Céline Dudemaine,
Etudes francophones
III.1, 1998, 242.
-"The author makes of his analysis some "emotional exercises in front of the paintings." Emotion being what is the best thing to convey when one has style, each page here is touching us and invites us to revisit this work…" Pierre Karch,
University of Toronto Quarterly
69.1 (Winter 1999-2000) : 505