What Holds Us
Short Stories (Montreal: Lemeac Editeur, 1988, 114p.)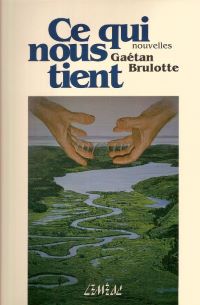 This is a collection of twelve stories grouped in three different parts: Resistance, Insistence, and Persistence. The first group provides stories related to rebellion against some forms of absurdity that we can encounter in our life; the second deals with stories that show what happens when people insists in pursuing the wrong causes; the last set of stories reflect on enduring values worth considering to improve one's life, such as love, creativity, imagination, lucidity.
Literary Prize of Trois-Rivieres 1989 (Quebec)
Finalist to the Goncourt Prize for Short story 1989 (France)
Reviews' excerpts
"What Holds Us, a brilliant sequel to The Secret Voice, whether it's for the intrinsic quality of each of the stories or the relationship that this collection is maintaining with the author's previous publications. Thus Brulotte just offered a collection which is equal to his talent and invite to the re-reading of his works." Claude Grégoire, Montreal, XYZ, Feb. 1989.
"Gaetan Brulotte goes beyond the limits that would define the conventional genres. (…) It is a clever mixture of fiction, hermeneutic and autobiography, and on top of that a high dose of Brulottian irony. As in his previous works, the writer distinguishes himself by the elegance of his style, the perfectionism of his vocabulary, which we can see everywhere in puns and his fondness for rare and rich terms. Whether they are anchored in the daily life, or are on the verge of some Kafkaesque and terrifying fantastic, or show the climax of passions, or offer the simple but fairy beauty of a children's tale, these short stories reveal characters whom for the majority are have-nots or marginal people facing a strange world, which sometimes is an enemy, but which is also often extravagantly comic. (…) These characters are participating into life's lottery, so that, his interest constantly awaken, the reader may at any moment recognize himself." Stephen Smith, Bulletin de la Société des Professeurs français et francophones d'Amérique [New York] (1988): 296-297.
"An astonishing unity is emerging from this collection. What Holds Us is absolutely to be read for its construction as well as for each of the short stories." Alain Lessard, Quebec City, Nuit blanche 33 (Sept-Nov. 1988) 4

"The book is conceived as a false sonata, the three movements of which being marked: ostinato. This defines a sort of continuity principle, i.e of repetition in a kind of emptiness that could very well be endless. The short stories by Mr. Gaetan Brulotte are frightening because of their natural imaginative ingeniousness. These tragedies can happen. Is dream a fiction or is life becoming a dream? What Holds Us brings the reader to repeat for himself all these questions. The human implications of What Holds Us, with its prolongation into the possibilities of dreams, interested me." Jean Ethier-Blais, Montreal, Le Devoir, 5-28-88, p. D-8.

"What Holds Us succeeds in keeping the reader in suspense as soon as the book is open and to sustain interest until the last page is turned." Claudine Fisher, The French Review (USA), 62.6, May 1989, 1089-90.

"Brulotte is putting on the grill of absurd a skewer of exemplary and derisive anti-heroes, which are familiar and uncommon. (...) Through their whimsicalness, pettiness, maladroitness, weakness, absurdity, we seek and recognize ourselves in them. (…) It is therefore an important text for its inherent quality and because its shows a wish on the author's part of creating a unified work in which each individual piece belongs to a vast organization. (…) On top of that, let's admire his limpid style, which is precise, varied and controlled. He is capable of going from the dryness of a judicial document to the lyrist sensuality of a prose poem." Gérard Montbertrand, Revue francophone de Louisiane (USA), 1990, 100-101.